Or in other words, I like to use big words to pretend I'm smart. But seriously though, I learned the word eschatology back in a New Testament class at BYU and it basically means the study of the last days, the second coming, or the end of the world.
I just finished reading/skimming a book on early Christian history that covered the apostolic period through the papacy of Gregory around 600 (the same Gregory of Gregorian chant fame, but not the Gregorian calender- that was Gregory the 13th).
I was struck by how obsessed the early church was about the second coming. There is evidence that even the apostles believed that Christ would come again soon, possibly within their lifetimes. The doctrine of an imminent second coming was ever present on the minds of early Christians, from what we can tell from the writings of the period. This focus on the second coming died down a bit with the realization that maybe He wasn't coming back right away, but tended to flare up again around significant dates like the year 1000 ad (and more recently, the year 2000). Many Christian sects and individual Christians tried to predict the time of the second coming using the Bible and sometimes other extra-biblical sources like astrology or Nostradamus.

It seems to me that the history of the Mormon church's belief in the timing of the second coming has mirrored the beliefs of historical Christianity, only in a much more condensed time frame. When the church was restored, language of building a Zion was common. When the early members spoke of building this Zion, they were not speaking of a nice place where they would all get along and were free to practice their faith, they were thinking of building the city were Christ would reign during the millenium, which would probably happen within their lifetimes (see any good book on early Mormon history- like Richard Bushman's bio of Joseph Smith).
This belief in an imminent second coming provided an additional fervor to their belief in the restored church. It was appealing because of all the biblical prophecy in which the Lord promises to gather up his elect before the end times, and lo and behold, here is God restoring His true church, so He must not be that far away from coming! This was reinforced by all the passages in the D&C which say something like "Lo, I come quickly..." or "The time is soon, yea even at the doors, yada yada..." (yada yada not in original but meant for comic effect).

Then came section 130 of the D&C. Joseph inquired about the timing of the second coming- since the church had been expecting it for years and it had not happened yet. God says: "Joseph, my son, if thou livest until thou art eighty-five years old, thou shalt see the face of the Son of Man; therefore let this suffice, and trouble me no more on this matter."
After Joseph died, many church leaders and members interpreted this to mean that Christ would return in the year in which Joseph was to turn 85, ie 1890, including, I believe, Brigham Young, John Taylor, and Wilford Woodruff. When it did not happen, no one lost their testimonies because that passage of scripture was sufficiently vague and did not come right out and say "Yea, verily I will return in 1890. Prepare ye a hearty feast for my arrival!". But the habit of trying to predict exact years for the second coming (doable since it only says we can't know the hour or the day, right?) persisted.

My grandpa was apparently one of those who persistently was trying to predict the second coming (at least according to my dad and an uncle). He was always paging through the scriptures, trying to find obscure references, tie them to current events, and from there calculate a date.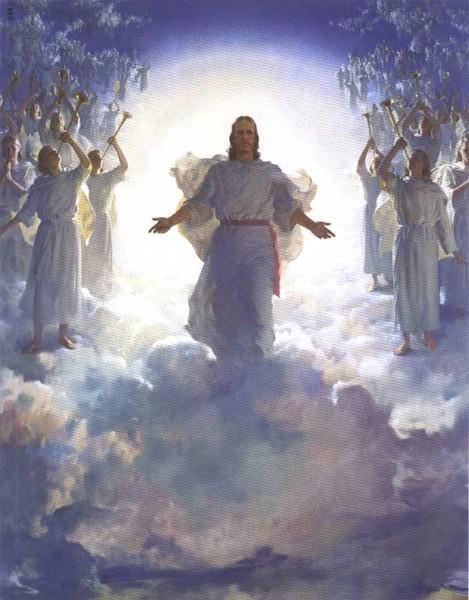 His patriarchal blessing, as I've noted before, even led him to believe that it was within his lifetime, to comical effect when he finally died in his mid 90's. And if you've ever been to church, you've probably met people who do the same, saying things like "Hey! Did you see what happened in Israel? Any day now!"

And so I come to the poll question of the week. Most of us seem to think that it will not be in our lifetimes. A few others think that if it does, we will be very old. Only a brave few think that it will happen when we are in our primes (40's or 50's). For those who voted, why do you think it will happen when you voted for?